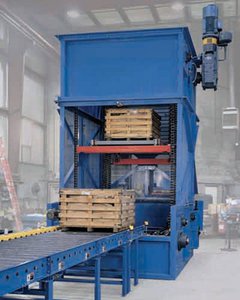 The Model 180 continuous vertical lift from TKF is designed to accept loads horizontally, convey them vertically, and discharge them horizontally in a "Z" pattern. They run in a single vertical direction – up or down - or can be configured to be reversible on-demand. The chain driven system features a generous 6000 lb. unit load capacity and with a chain speed of up to 120 feet per minute, will deliver up to 35 loads per minute depending on product dimensions.
The fully automatic unit is capable of lifting loads to heights over 100 feet. A moving platform carrier receives each load from the feed conveyor, conveys it up or down to the unload station, and discharges it to the receiving conveyor. The lift platform utilizes a synchronized powered conveyor that loads and unloads items to any compatible conveyor system. No operator intervention is required except for routine maintenance, and the unit is designed to run 24/7.
Each load is carried on a moving platform fastened between continuous loops of chain. The platform carrier is rigid in the horizontal load-carrying position, yet flexible as it rotates around the top and bottom sprockets. This design saves space and the unit typically occupies less floor space than comparable lifts. The lift and platform can be designed to handle virtually any size load.
TKF can provide their own pre-engineered control system, or can customize the controls to meet specific customer requirements.