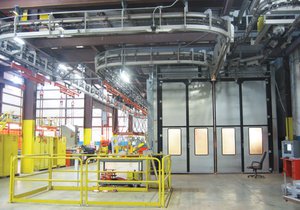 TKF, Inc. offers overhead monorail and power and free conveyor systems, which, in many cases, are ideal for small manufacturing plants, as well as large facilities that have traditionally employed such systems.  The systems are available to efficiently accommodate products weighing up to 6,000 pounds. 
TKF's overhead and power and free systems can produce operating efficiencies, and reduce manual handling between sequential processes while accommodating static work station operations.  Product can be accumulated to support nonsynchronous processes, and selective routing can be incorporated for varying sequencing of unique products.

For installation in new or existing facilities, TKF works with every customer to design a custom system specific to the needs of each.