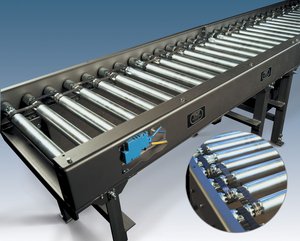 With its drive gears formed directly into the rollers, the PosiGrip Accumulation Conveyor from TKF, Inc. has no separate sprocket or gears and no welded drive components. The rollers are powered by smooth-operating and quiet, synchronous belting in a positive drive. Since there is no metal-to-metal contact, no lubrication is required and the system does not generate oily, messy components.
All electrical components can be self-contained within the side frame, which eliminates the need for wiring back to PLCs and reduces the cost of field wiring. It is ideal for both clean environments such as electronic component manufacturing and food and beverage processing, as well as tough, rugged applications where non-contact between conveyed product is crucial.
PosiGrip features non-contact, zero pressure accumulation. Accumulation zones are driven by the motorized rollers, each with a drive card with settings that allow easy adjustment of speed acceleration and deceleration. The drive roller stops as product reaches the photo-eye at the discharge point of the zone, virtually ensuring that no contact takes place. Zones can be individually controlled for specific assembly areas and are available up to 75" long and 48" wide.
With its heavy duty, compact design and a lower profile than ever before possible in a powered conveyor, the PosiGrip Accumulation Conveyor easily handles a wide array of products with unit loads up to 400lbs. in each zone.
The PosiGrip Accumulation Conveyor's modular design offers maximum flexibility and allows easy installation. A variety of special configurations are available. TKF's highly experienced staff can recommend, design, manufacture and install the PosiGrip conveyor system that best fits any customer's conveying needs.