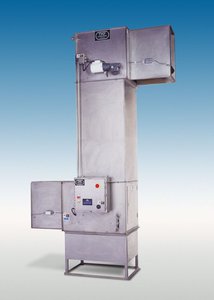 TKF, Inc. Stainless Steel Continuous Vertical Conveyors provide high speed up-and-down service with an output of up to 40 loads per minute depending on overall product dimensions. With chain speeds up to 120 fpm, TKF continuous vertical conveyors are ideal for the packaging, food, pharmaceutical, and cosmetic industries.
TKF Continuous Vertical Conveyors are designed to accept a load horizontally, convey it vertically and discharge it horizontally in a continuous non-stop operation with loading and unloading in a Z pattern. Systems may be single direction or reversible, as required.
Each load is carried on a moving platform attached to continuous loops of chain. The unique platform carrier is rigid in the horizontal load-carrying position, yet flexible in the opposite direction, allowing it to travel around the sprockets in a minimum of space as it returns to the load position.
Powered conveyors synchronized to the lift platform speed are used in loading and unloading, and are designed for the specific product to be handled, using roller, belt or chain.
Five standard models are available, with unit load capacities ranging from 5 lbs. to 4,000 lbs., and vertical travel up to 80. The in-feed height should be at least 18 to 28 but can be lower if a pit is used.
Clean, safe TKF Stainless Steel Conveyors feature a simple, low-maintenance design, a wide selection of standardized units from modular components, and fully automatic operation. The space-saving design cuts floor space requirements by up to 90%, utilizes vacant overhead space and opens up mezzanines and balconies for more effective use.
About TKF
TKF designs, builds and installs conveying systems. The company's services range from systems integration, initial engineering concepts and final design, to manufacturing and installation. TKF's manufactured products include reciprocating and continuous vertical conveyors, PosiGrip conveyor, overhead, monorail and power and free conveyor, popup transfer, accumulation, curve, roller and a variety of custom engineered conveyor and material handling systems.
Contacts:
Mr. Jim Walsh
TKF, Inc.
513-241-5910
jwalsh@tkf.com